The best car for new drivers should be affordable, safe, reliable, and easy to drive. Mercedes may be popular for its sophisticated cars, but they also have excellent cars for new drivers.
Mercedes-Benz A-Class is a great car for young drivers
The Mercedes-Benz A-Class is the best car for young drivers. The car is straightforward to drive, comfortable, reliable, safe, and has quality features. What's more, it's slightly cheaper but with better engineering than the competitor cars in its class. It is the perfect car for young inexperienced drivers.
Unlike experienced drivers, young or new drivers have a lot of things to learn. That's why they require a dependable car that makes them comfortable on the road. The Mercedes A-Class offers that. This car is slightly compact with the hatchback option being even more compact.
Because of its affordable price, young drivers won't have to deal with high insurance premiums that come with inexperienced drivers driving expensive cars. For instance, a new 2015 Mercedes A-Class may only cost around $20,000. This is fair and the young driver will be given a good quote for it.
Features of the Mercedes-Benz A-Class
What makes the Mercedes A-Class an ideal car for young drivers is the exceptional features that it comes with.
Exterior
The newest Mercedes-Benz A-Class sedan comes in a 3-box design, which gives it a sporty yet elegant look. What's more, it has a gently sloping roof that allows the occupants to experience first-hand open-top motoring pleasure. This also brings a refreshing feel and makes the car come alive.
Additionally, the car has a thrilling rear-end design and a dynamic and beautiful outline that displays opulence. The all-season tires allow the car to glide on any surface without a lot of challenges. Other exterior notable features include fully galvanized steel panels, light tinted glass, and chrome side window trim.
Interior
Like all Mercedes models, the interior of the Mercedes-Benz A-class displays luxury and comfort. It ensures that the young driver is comfortable as they take the wheel to venture into unchartered waters. They can relax knowing that they are safe and secure.
Some of the exceptional interior features of the A-Class are a smooth transition from the dashboard to the center console, and door trims. The seats are well spaced and comfortable. Additionally, it has a widescreen display for easy viewing, even when driving.
Comfort
In terms of comfort, your new driver will be honored to drive this luxurious German car. The Mercedes-Benz User Experience (MBUX) system makes the car fun to drive for the first-time driver, whether they're 16 or 32. Thanks to its artificial intelligence, the system can memorize to accommodate the driver more and more as time passes.
Other notable comfort features of the A-Class include a Linguatronic voice control system that obeys your words and understands you before learning commands. Additionally, it has a multi-contour package, Energizing package, smartphone connectivity, navigation connectivity, load compartment, wireless charging, touchpad & touch control, smartphone integration, and a head-up display.
Safety
Like all Mercedes vehicles, the Mercedes-Benz A-Class sedan comes with lots of safety features. Therefore, even a new 16-year-old driver without a lot of experience will be safe on the road. Safety is among the vital factors to consider when picking a car for a start-up driver. 
This car has lots of safety features, which include driving assistance, electronic stability control, active brake assist, back-up camera, blind spot assist, ABS & Driveline Traction Control, dual-stage driver & passenger seat-mounted side airbags, driver & passenger knee airbag, child safety locks, tire specific low tire pressure warning, and much more.
Performance
The Mercedes-Benz A-Class may feature a sporty look, but it's not as sporty to drive as it appears. The turbocharged 2-liter four-cylinder engine provides the A220 a good amount of pace, but it's not on par with the high-end Mercedes C-Class or E-Class. So, it's perfect for young drivers.
How old are Mercedes-Benz buyers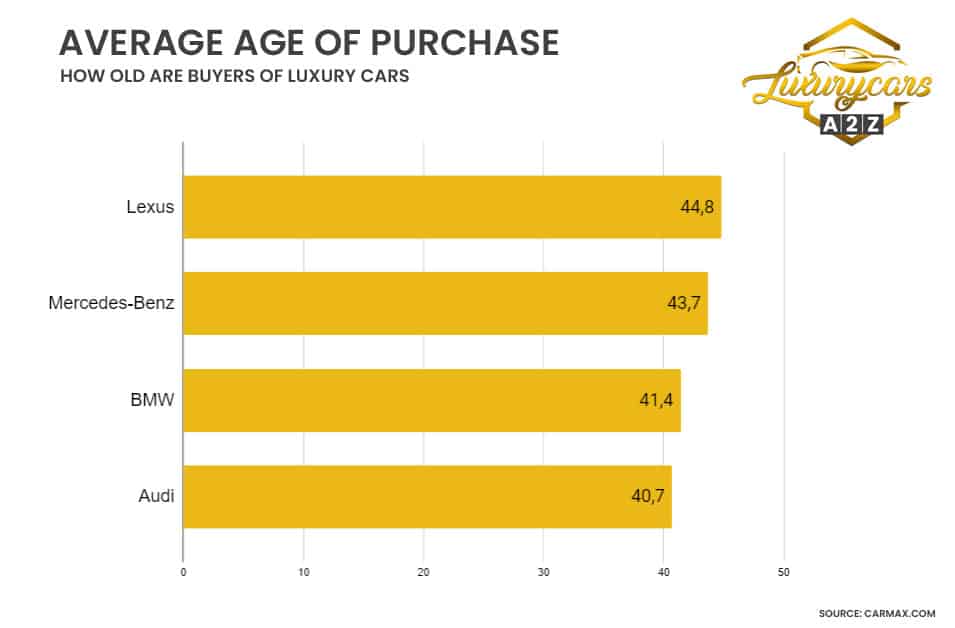 Questions about new Mercedes drivers
Does a teenager really deserve a Mercedes as their first car?
It depends on many things, such as the location of the driver, driving skills, financial situation, and reliability of the car. Mercedes-Benz vehicles are expensive to buy and maintain. As a new driver, you don't want to spend a lot of savings on costly repairs and maintenance. So, only buy one if you can actually afford it.
What is the most reliable Mercedes model?
If you want the comfort of the Mercedes-Benz, combined with luxury, performance, safety, and reliability, the Mercedes E-Class is the best car. That's why it's highly rated by the IIHS for its outstanding automated emergency braking, adaptive LED units, blind-spot monitoring, lane-keeping assist, and adaptive cruise control features.
Is the Mercedes-Benz S-Class good for young drivers?
No, it's not. Aside from the high initial cost, the Mercedes-Benz S-Class has too much power for a young driver. If anything goes amiss, they will incur heavy repair and maintenance costs. Also, the cost of insurance will be on the high-end, as the risk of damaging the car is high.
What is the best second-hand Mercedes for young drivers?  
The Mercedes-Benz E-Class still stands out as the best used Mercedes car on the market. That's why even many German Taxi drivers still use them to date. If you're a young driver and want a reliable and safe second-hand Mercedes, then the Mercedes E-Class is the best choice.
Is a new Mercedes a good first car?
Yes, it is. Even though many people are afraid of starting their driving career in an expensive car, it's still cool to do so. This is because you get a safe, comfortable, and reliable car to start with. However, you should be ready to incur high insurance premiums and maintenance costs.
Bottom line
If you're a young driver, understanding your needs and challenges are very crucial when selecting your first car. Since Mercedes-Benz offers some of the safest and more reliable cars on the market, it's not a bad idea to start with one.
The best Mercedes-Benz car for start-up drivers is the Mercedes A-Class hatchback. Even though the A-Class sedan is cool, the A-Class hatchback is more compact, which is ideal for young drivers. The car is technologically advanced, safe, comfortable, reliable, and has the three-star Mercedes emblem.