Whether you choose to opt for a Lexus or a Mercedes, you will not be disappointed. Both brands offer exceptionally well-crafted automobiles, widely regarded as chart-topping in many different segments. However, when we dig deeper into the finer details, things start to change, and the clear winner is revealed.
Mercedes-Benz is the better luxury car when compared to Lexus in all aspects. Depending on your preferences you might still end up thinking Lexus is the better car for you. Mercedes-Benz cars have top-notch technology and are the safest car of the two.
Mercedes-Benz vs. Lexus: The Best Brand image
Both Mercedes and Lexus are widely regarded as luxury brands. But there is quite a difference in how both of these brands are perceived when specific markets are concerned.
In Europe, German manufacturers such as Mercedes, BMW, and Audi dominate the market. And there is no sign that Lexus could compete in the distant future. This is partially because the German manufacturers never actually fail to deliver. They have consistently offered opulent luxury vehicles for the European market.
In the US, on the other hand, domestic car brands have not been so consistent. Brands like Lincoln and Cadillac suffered a significant loss of prestige in the 70s, and are just now slowly gaining traction as luxurious brands.
This might be the reason why Lexus came to be in the first place. Lexus was made as a luxury department of Toyota, primarily to compete in the US market. 
Both Lexus and Mercedes brands ooze refinement and luxury, but there is a clear advantage on the German side. Mercedes has a long-lasting history of being one of the most dominant car manufacturers on the planet. While Lexus, although it's luxurious and on par with Mercedes when it comes to quality, simply can't match the appeal the Mercedes name offers.
Which is the more reliable, Mercedes-Benz or Lexus?
Mercedes and Lexus are both widely considered to be well-built cars, but there are notable differences in the reliability department that are worth pondering.
Mercedes was founded in 1926, and since then it has been appraised as one of the greatest innovators of the car industry. They even invented the car itself in 1886. As time progressed, Mercedes kept on innovating which resulted in modern-day Mercedes cars being the most feature-packed automobiles on the market.
But adding more parts, some of which are made by third-party developers, has resulted in Mercedes having only an average reliability score. Some say it's due to the sheer complex architecture a Mercedes is based upon, while others believe it's mostly due to quality control issues.
Lexus as a brand was founded in 1989, and is mostly known as the luxury department of Toyota. While that may seem like a drawback, reliability scores tend to show otherwise. Lexus cars have consistently been regarded as the most reliable luxury cars on the planet.
Lexus cars are incredibly dependable. Toyota, their parent company, is also very well known for making long-lasting engines, so this is also the case for Lexus. While Mercedes boasts only an average reliability rating, Lexus shows that complex cars are not inherently more unreliable, and Lexus takes a clear victory in the reliability department.
Who has the most high-tech technology, Mercedes-Benz or Lexus?
Technology and safety are both prominent reasons why one would spend that little extra for a Mercedes or a Lexus. However, there is quite a difference between the two. While both brands are high tech certified, the newest Mercedes offerings are sure to impress when it comes to technology.
For instance, the MBUX system offered in Mercedes as an in-house infotainment system is quite possibly the best infotainment system on the market. The system can be controlled in many different ways, such as through touch screen input, voice control, dial controls, and gesture controls.
Mercedes-Benz is a true luxury vehicle with some cutting-edge technology.
The Lexus infotainment system is not up to date, and the means of controlling it is rather cumbersome or downright annoying. Lexus screens are a lot less crisp, a lot smaller in size and offer a lot less functionality.
Is Lexus or Mercedes the safest car
When it comes to safety, both brands are considered to offer adequate or even great safety ratings. However, Mercedes comes on top as being the number 4 ranked safest car brand in 2020 as per IIHS (Insurance Institute for Highway Safety). Lexus did not break into the top 15 for 2020 but is also widely regarded as a safe brand.
Mercedes-Benz vs. Lexus: The best performance
As far as performance is concerned, Mercedes also offers a larger variety from its AMG sub-brand. Yet, Lexus is also known for its great performance vehicles, especially the Lexus LFA, which is widely considered as one of the most exhilarating cars in the modern age.
Mercedes currently offers more than 20 high-performance AMG models, ranging from a small hatchback up to exotic AMG GT Models. On the other hand, Lexus offers only 3 stand-alone performance cars.
While the sheer number of performance cars in their line up makes Mercedes a better performance brand overall, there is quite a difference in the market share these two brands possess when it comes to performance cars. The number of performance cars available only reiterates that fact even further.
Most popular luxury car in the US: Lexus vs. Mercedes-Benz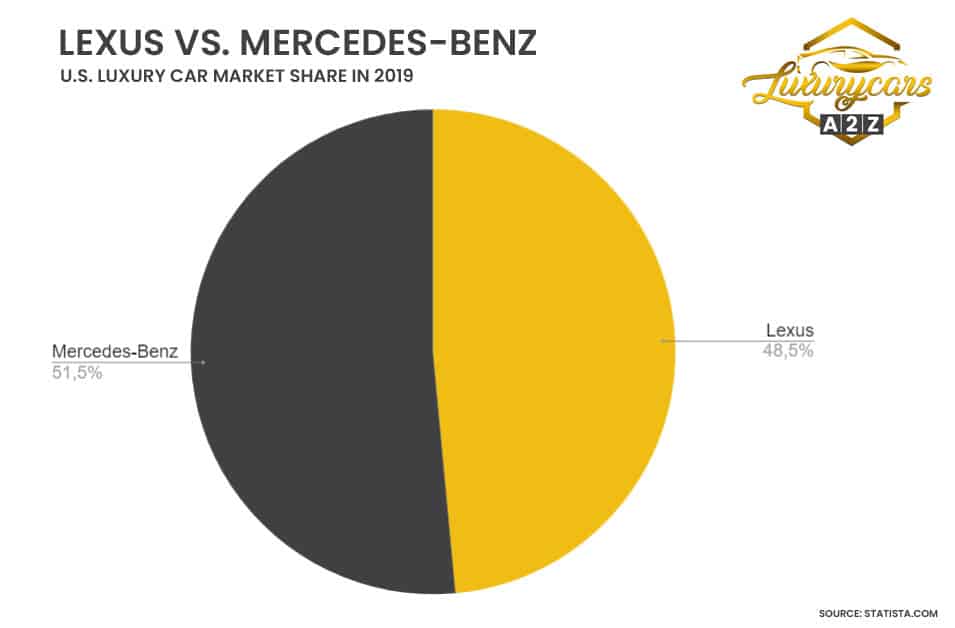 FAQs: Lexus vs. Mercedes-Benz
Is a Lexus more expensive than a Mercedes?
While the average market price of a Lexus is around $35,500, the average market price of a Mercedes is a bit lower at $33,700. This is mostly due to the fact that Mercedes offers a larger variety of smaller more affordable cars.
When you factor in the ownership costs over 5 years, Lexus seems to be a better bargain.
When it comes to insurance costs, Lexus is around $1,300 per year, which is not cheap. However, Mercedes annual insurance costs are closer to $2K. This could be due to Mercedes being a less reliable brand overall.
These numbers only tell half of the story, though. Many different factors determine insurance costs, which are mostly associated with reasons specifically tied to the owner or the model in question.
Is Lexus a more comfortable car than a Mercedes?
Both Mercedes and Lexus are extremely comfortable. You are not going to make a mistake by choosing either of the two. However, Mercedes holds a slight advantage here as well.
This may be due to the fact that Mercedes keeps innovating more than many other brands on the planet. Some models such as the S-class are known as the benchmark when it comes to luxury sedans. Mercedes cars are built primarily for the German market as autobahn cruisers, and that's where they excel.
Lexus cars offer opulent interiors and really comfortable seats, but they don't offer the same level of comfort a Mercedes does. Lexus shares some parts with its parent company Toyota. While that may work well as far as reliability is considered, when it comes to comfort, it doesn't reach the level of a Mercedes.
Does Mercedes offer a wider variety of cars than Lexus?
Mercedes currently offers dozens of different models for every imaginable use. The range kicks off with the small A-class hatchback, followed by a smaller sedan such as the C-class, a medium-size sedan such as the E-class, or the full-size sedan, the S-class. Mercedes currently offers 9 different SUVs, a modest hybrid range, and one fully electric car, the EQC.
Lexus, on the other hand, offers around 10 to 15 different models, mostly sedans and crossover SUVs.
While Mercedes does boast an admirable hybrid range, Lexus hybrid cars are some of the most efficient hybrid cars on the planet, as Lexus has perfected the hybrid segment. When it comes to EV's, Lexus offers the UX300e.
In 2019, Mercedes sold 2.34 million cars and Lexus sold less than 750,000 cars. While the difference in the number of cars sold in 2019 seems to suggest that Mercedes trumps Lexus in every way imaginable, that is not really the case. Lexus is a more modest car company, but still offers great cars that are on par with the German giant in almost every aspect.
Is Lexus IS more expensive than Mercedes-Benz CLA?
The Lexus IS starts at $39,050. This is higher than the Mercedes-Benz CLA's starting MSRP of $37.850*. The CLA is more expensive, but it offers many perks that the IS doesn't have, such as 64-color LED ambient lighting and illuminated vents.
Are Lexus sedans good cars?
Lexus makes some great luxury sport sedans. Lexus proves that technologically-advanced luxury vehicles can also be very reliable. Most models are predicted to have an average or higher level of reliability. Lexus' LS sedan is the only stumbling block. It has much-below average reliability.
If you're a tall driver you would want to know what the best sedan is for tall people.
Is Lexus better than German cars?
Lexus's price is comparable to BMW and Mercedes-Benz, but lower than Audi. It's reliable and more affordable to maintain for a longer time. Two Lexus vehicles were named to the Kelley Blue Book's Top Three Luxury Entry-Level Car Resale Value List for 2020.