It is hard to believe, but there are precisely 20 Mercedes models currently on sale. From small A-Class hatchbacks to luxurious S-Class limousines, with a lineup of modern SUVs and several sports cars.
It looks like Mercedes has the market completely covered. However, when you have that kind of choice, the next logical question is which Mercedes is the best one to buy and why?
Mercedes C-Class is the winning model
Despite all the cars Mercedes offers, we believe that the best to buy is the Mercedes C-Class. This model has an affordable starting price and comes in several different versions and trim levels. It can be customized to perform like a sports car or to be reliable family transport.
Is it a good idea to buy a Mercedes-Benz with a high mileage?
The Mercedes-Benz C-Class is versatile
The current Mercedes C-Class is the fourth-generation of this compact executive sedan introduced in 2014. Available as a four-door sedan, wagon, two-door coupe, and convertible, it covers a broad spectrum of customer's needs, being usable and practical family transport as well as a proper driver's car for enthusiastic owners.
The C-Class design is unmistakably Mercedes, and this successful model has all characteristic design cues. Some say that it looks like a scaled-down E or S-Class model, which is really a compliment and ads to the upscale appearance of this car.
Mercedes-Benz C is spacious
In terms of space, C-Class is spacious enough to provide comfort for four adults and their luggage. For more demanding customers, there is a C-Class wagon, which has an even bigger trunk. Since most C-Class will be family vehicles, we can report that this model is up to the task in every way.
The C-class's specifications
However, the C-Class's best features are beneath the sheet metal, which is where this compact sedan really shines. The standard drive train layout is rear-wheel-drive, but you can get a competent all-wheel-drive as an option. The standard transmission is a 6-speed manual, but many customers opt for a modern automatic gearbox, especially in more powerful versions.
Numerous types of engines available
Another big selling point of the C-Class is its wide choice of engines. Currently, there are 15 engines offered, which is astonishing. Customers can choose between small displacements, turbocharged petrol and diesel engines all the way to mighty turbo V6 and V8 units in C43 AMG and C63 AMG models.
For buyers concerned about fuel efficiency and ecology, Mercedes offers hybrid technology on both the gasoline and diesel models.
This is the best choice for a Mercedes under 10k
Luxury cars with powerful performance
Although the majority of the C-Classes sold are regular or economy spec models, the car enthusiasts are particularly interested in the performance variants. You can get C43 AMG and C63 AMG either as a sedan, wagon, coupe, or convertible, making them suited for every purpose.
Of course, the most prominent feature of those models is power and performance. The C43 AMG has 390 hp and can reach 60 mph in just 4.7 seconds, while C63 AMG has up to 510 hp and can sprint to 60 mph in blisteringly fast 3.9 seconds.
The C-Class has every feature you need
As a luxury brand, the Mercedes C-Class is filled with creature comforts, advanced features as well as state-of-the-art safety systems. Regardless of the trim level, all C-Classes have nine airbags, ESP, LED headlights, Brake Assist System, Attention Assist, Active Parking Assist and much more as standard. There are a lot more equipment and features as additional add-on options.
Affordable luxury
Even though the C-Class is one of the best vehicles in its class and the Mercedes lineup's sweet sport, the base price is still somewhat affordable. In the US, the base C-Class starts at $41,000 MSRP, and in Europe, buyers need to pay around 39,000 euros for an entry level model.
Get the most Mercedes for your money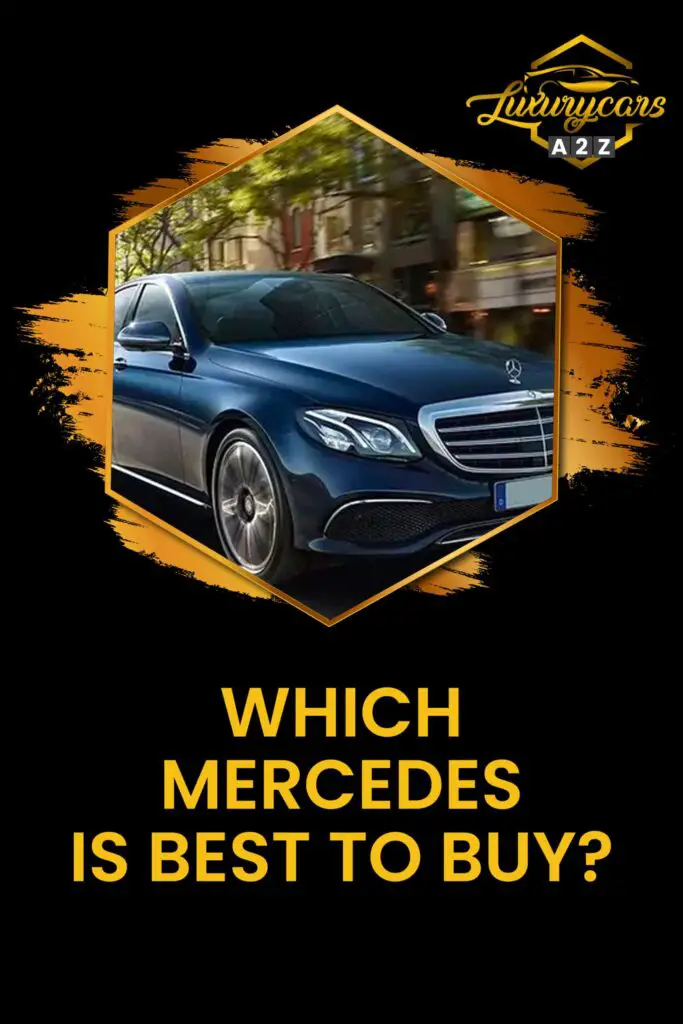 User comment about what Mercedes-Benz is best to buy
Finding the Best Mercedes
If you are looking for the best Mercedes-Benz, this can be a very confusing task, since there is so much information out there. If you are a person who wants to buy a new Mercedes, you need to make sure that you are able to get the best deal.
You can do this by finding a website that will allow you to look at different cars from different manufacturers in the same place. This way, you can get an idea of what each car looks like, as well as reading reviews that other people have given.
Many places to get a good Mercedes
When you go to these sites, you will find that there are a number of different places where you can find the best Mercedes that you want. If you are shopping online, you will be able to find many different websites that can help you in finding the best car to buy.
The good thing about these sites is that they give you a whole bunch of different things to choose from. They will also give you the best price available for that particular make and model of car, so you are sure to find something that you will be happy with.
Get the best deal
There are a few things that you need to be careful about when you are shopping around online for the best car to buy. First of all, you want to make sure that you only pay for the amount of money that you want.
This is one of the best ways that you can find the best deal, because the site will not charge you for any shipping or handling fees. The best way to do this is to just go to a site that will let you pay for the amount that you want to. This way, you will always know what you are getting for your money.