The Mercedes-Benz 300SL Gullwing is among the most iconic Mercedes-Benz cars of all time. But will Mercedes ever make another Gullwing? 
At the moment, Mercedes-Benz doesn't have plans to produce another Gullwing. However, plans are underway to honor one of the most coveted Mercedes models of all time by creating a car that's very similar to the 1950's Gullwing.
According to Mercedes-Benz's chief design officer, Gordon Wagner, the design of the new-generation of Mercedes' flagship SL sports car will be inspired by the classical 1950's 300SL. Mercedes is hoping to make a modern version of the classic icon. 
Even though Wagner confirmed a new generation is in the works and that the future of the SL is very bright, he made it clear the "gullwing" doors, which were last featured on the SLS AMG, wouldn't be returning. This may sound quite disappointing to gullwing lovers.
Wagner said the car would be a new, non-retro design with "the DNA and spirit of 300SL."
What made the 1950s Mercedes-Benz 300SL Gullwing special?
Mercedes-Benz 300SL Gullwing vehicles were made in the 1950s, specifically in 1994 and 1995. In total, 3,258 vehicles were made and 1,400 were coupes. The Gullwing coupe was very popular and it graced events such as Le Mans and Nürburgring.
What made the Gullwing stand out from its competition was the uniquely designed gullwing doors that left people in awe. However, getting in and out of this iconic car was quite a hassle. These doors still leave people perplexed.
Accessing the Gullwing was trouble because of its high sill and small cockpit. But this never deterred interested buyers and doesn't deter them, even to date. This beautiful sports car is fun to drive and years ahead of its competition in terms of technology and performance.
As a matter of fact, the 300SL Gullwing was the fastest car in its competition during that time. Fitted with a straight-six 3.0-liter engine and 215-hp, this car had the first fuel-injected engine made for mass production. Even today, the 300SL Gullwing still stands out from the competition.
Also referred to as the W194, this supercar was originally made for the American market, after Max Hoffman, an American, pushed Mercedes to produce the 300SL for the US market. All-in-all, the 300SL Gullwing remains one of the most elegant cars ever made.
FAQ
How many generations of the SL has Mercedes-Benz launched so far?
So far, Mercedes-Benz has launched at least seven generations of its classical SL model. SL in full means Sportlich-Leicht, which can be translated to Sport Lightweight in English. The present SL generation was launched in 2013, and the average age for a generation of any recent SL has been at least 10 years.
Since SL generations stick around for at least 10 years, you should expect the next generation to appear in the next couple of years.
How much is a Gullwing Mercedes-Benz worth?
Not only does this iconic Mercedes car look exceptionally elegant and sporty, but it also attracts one of the highest prices when it comes to vintage cars. You will be surprised to find that the Mercedes-Benz 300SL Gullwing costs between $1 million and $4 million.
In 2012, a unique all-aluminum body 300SL sold for a whopping $4,620,000. This was one of the 29 such models to be ever built. However, most Gullwing models sell for between $2 and $3 million. So, if you're looking for one of these iconic Mercedes cars from the 1950s, you should be ready to break the bank.
Why is the Mercedes Gullwing 300SL so expensive?
Apart from having good looks, the Gullwing 300SL features Gullwing doors and innovative technology. Very few Gullwing cars were produced, so it is very exclusive. Mercedes-Benz only produced roughly 1,400 cars, which is the main reason they are expensive on the auction market.
Additionally, the Gullwing doors give it a unique look, which makes the car's price even higher. The few models available are extremely expensive, if you're lucky enough to get one in the auction market.
Is the Mercedes Gullwing expensive to maintain?
Yes, it is. Like all other Mercedes-Benz car models, maintaining the Gullwing is even more expensive as getting spare parts is not that simple. After finding the spare parts, you also have to pay for labor. You may have to pay over $3,500 for a simple replacement part and labor, or over $17,000 for a serious part such as the rear-end center.
The good news is that Mercedes has introduced a new program that helps people easily find replacement parts for their Gullwings. The parts can be ordered from any Mercedes-Benz parts supplier and they are not as expensive as they were in the past. 
Every metal part is made by a certified supplier who utilizes optimized 3D data from the bodies of original vehicles. The outcomes are excellent replacement parts. After the parts have been made, the supplier will complete them the old-fashioned way, by using a wooden mallet.
What latest Mercedes-Benz model comes with a Gullwing door?
The legacy of the Gullwing door continues on the Mercedes-Benz SLS AMG. Apart from having the same door, this car has many similarities with the iconic 300SL Gullwing. However, this is an aerodynamic coupe-roadster design that comes with gullwing doors. But unlike the famous Gullwing, this unit comes with more advanced features.
The Mercedes SLS AMG delivers a staggering 631-horsepower and accelerates from 0 to 60 mph in 3.6 seconds. It has a speed of up to 195 mph. This is faster and more powerful than the 300SL Gullwing with 215-horsepower.
Bottom line
Right now, it's not clear whether Mercedes will ever make another Gullwing car or not. However, new models are coming up that have the spirit of the gullwing without the retro design. The closest model to the gullwing is the new Mercedes SLS AMG GT. Unlike the iconic car, this model doesn't have gullwing doors. What you can be sure of is that some models with the spirit of the Gullwing will be on the market sooner than later.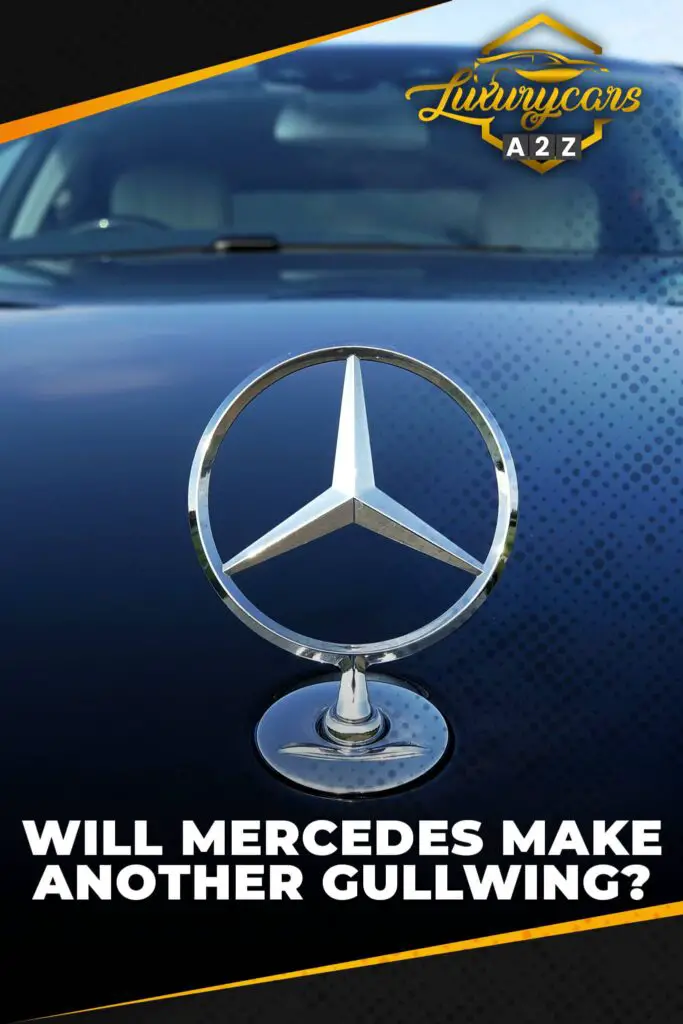 Our top picks when it comes to buying used cars
If you're looking for a used car you need to check out these places!
More: Buy used cars online