Citroën is a prominent French economy automaker known for offering quirky, urban-oriented, futuristic cars that aim to satisfy as many customers as possible. Lately, Citroën made the effort to invest a whole load of money in electrifying their cars which means that Citroën now has a fairly substantial EV range and we are going to tell you all about the new electric Citroëns.
To kick off the list, we are going to talk about the latest and possibly quirkiest Citroën of them all, the new Citroën AMI, a 100% electric micro city car designed to be cheap and perfect for busy city centers. If you want something a bit more grown-up, the new Citroën e-C4 electric is likely the best modern Citroën EV.
If you are after a 100% electric MPV perfect for family use, the new e-Berlingo is the obvious choice as it offers the best blend of safety, efficiency, and value in this price bracket. Lastly, we also need to talk about the larger Citroën e-Spacetourer which aims to satisfy those who need as many as 9 seats in a single package.
It seems like Citroën is also going to come out with more EVs in the coming years, one of the more interesting ones is surely the concept Citroën OLI. Citroën should also come out with the C3 electric and the C4 X EV in the coming months.
Citroën AMI
The Citroën AMI is powered by a tiny 5.5kWh battery mated to an electric motor that offers a gargantuan 8hp and a permanent FWD system. This is enough for the AMI to reach a top speed of 28mph/45mph which is rather amazing. 0-60mph is only possible if you throw the little Citroën AMI off a cliff. Either way, it is a fun city car that costs next to nothing and is enough for city use.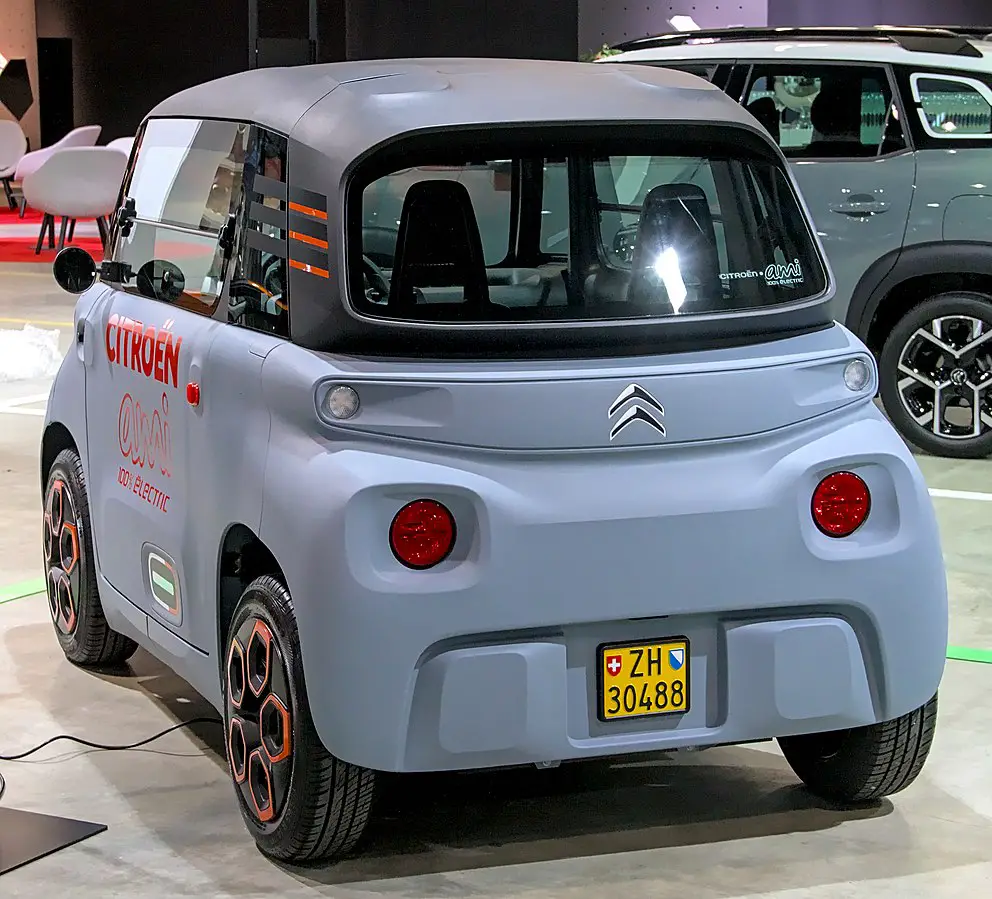 Citroën e-C4
The Citroën e-C4 is a lot more serious than the AMI which means that it comes with a 136hp 50kWh battery that is standard in many Citroën electric models right now. This is enough to power the e-C4 for about 218 miles of range tops while charging from 20% to 80% with a fast DC 100kW charger should take around 23 minutes.
The e-C4 gets a permanent FWD system and a single-speed automatic with reverse gear. Besides the powertrain, the 3-C4 is more or less the same as the regular C4 which means that it is comfortable, spacious, and safe. Sure, the e-C4 does weigh a bit more and it offers a slightly smaller trunk space, other than that, all C4 models are the same.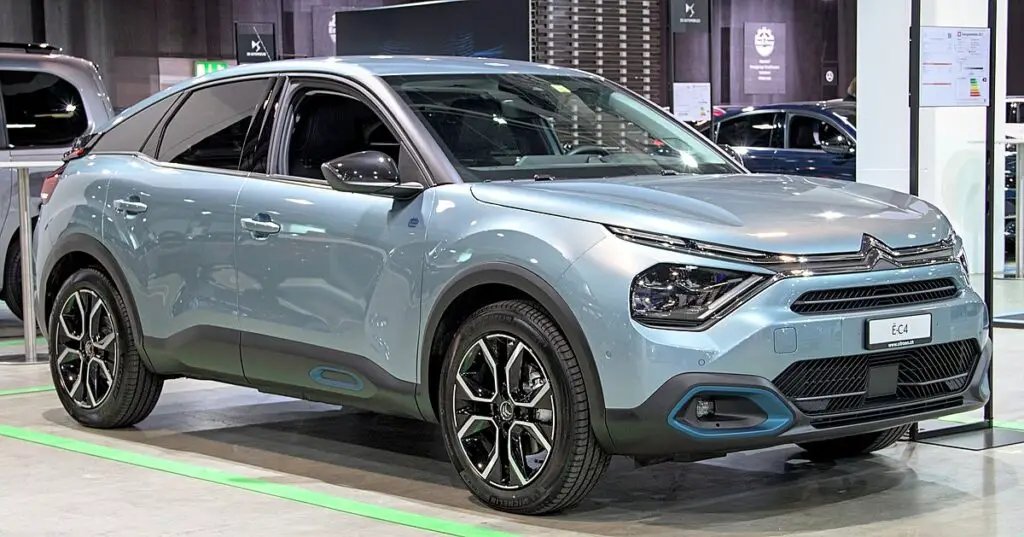 Citroën e-Berlingo
If you own a large family and you want it to be as safe and as comfortable as possible in a Citroën-made electric vehicle, you ought to consider the Citroën e-Berlingo. The e-Berlingo comes in two variants, a people carrier that can sit up to seven people or a van with upwards of 116 cubic feet of trunk space.
Both versions are powered by the familiar 50kWh battery found in the e-C4, but the e-Berlingo can last up to 174 miles and offer 136hp. This is because the e-Berlingo is heavier and less aerodynamic than the e-C4 and thus can't match the range of the e-C4. Either way, the e-Berlingo is a really competitive electric van/MPV, one that manages to beat most cars in its segment.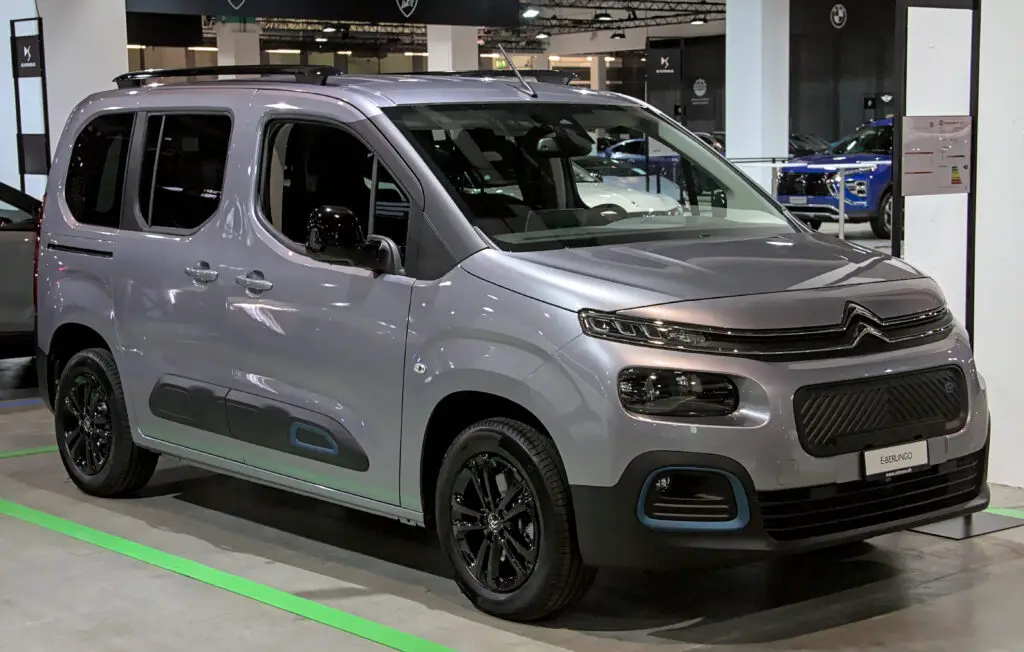 Citroën e-Spacetourer
The largest 12-seater Citroën EV is the Citroën e-Spacetourer which also comes with Citroën's 50kWh battery and 136hp. In a best-case scenario, the e-Spacetourer can do up to 167 miles while most people are going to get around 136 miles out of a fully charged e-Spacetourer, especially if you often transport 12 people at once.
Besides the powertrain, the e-Spacetourer is largely the same as the regular Spacetourer. We also need to add that you can now buy the e-Spacetourer in its largest "XL" form which manages to offer more or less the same range as the regular e-Spacetourer.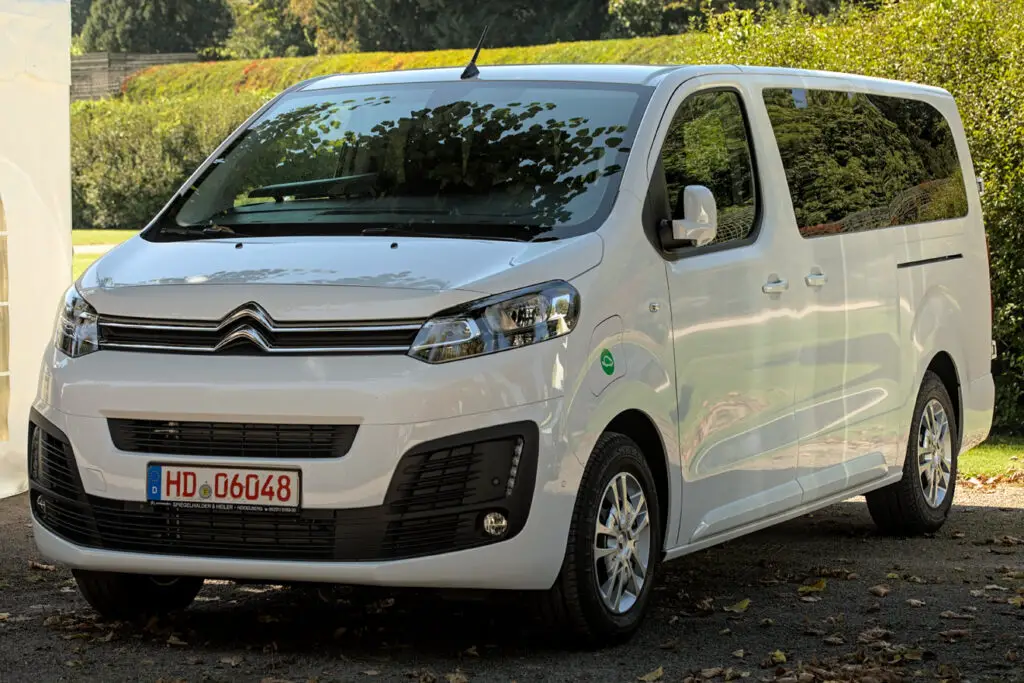 FAQ Section
 When is the Citroën e-C3 going to come out?
The Citroën e-C3 has already been shown to the public, but the production debut is likely to happen in the first or second quarter of 2023, some predict late April or early March. It seems like the e-C3 is also going to get the 50kWh battery with 136hp. Some sources state that the e-C3 is going to be able to do around 220 miles on a full charge.
We will have to wait and see if Citroën is going to extend the e-C3 range with both smaller and larger battery packs in order to compete with most of its Peugeot and Renault electric rivals.
When is the Citroën OLI coming out?
The brand-new Citroën OLI has only been revealed to the public a few days ago, but it is not going to enter production anytime soon. The Citroën OLI is a concept car for now, and the purpose of its existence is to showcase what a high-volume, utilitarian, and rather affordable Citroën CUV can offer.
The OLI looks like a compact crossover and it also gets a 50kWh battery which should be enough for a 250-mile range because the OLI weighs only around 2200 pounds which is really lightweight for any electric car. Either way, the OLI is only a concept car for now which means that we will not see it on the streets for a long while, if even ever.
When is the Citroën e-C4 X coming out?
The Citroën e-C4 X is going to enter production in late 2022 and early 2023 which means that it also gets the 50kWh battery we've come to see from all the previously mentioned Citroën EVs. This means 136hp and around 210 miles of range at best thanks to its aerodynamics and overall efficiency.
The e-C4 X differs from the regular C4 because it is slightly larger, more spacious, more utilitarian, and arguably the better-looking car. The e-C4 X is likely also going to be joined with the e-C5 X in due time as the C5 X is the new flagship Citroën.