In today's day and age, most people are living in crowded cities and it seems like the urbanization trend is not going to subside anytime soon. As cities are becoming more and more crowded, parking spaces are becoming scarce. City streets are packed with cars and not damaging your car in such as environment is fairly impossible.
If you add the fact that most big cities these days have strict policies and taxes on congestion and higher emissions, electric cars are becoming cheaper and ICE cars are becoming more expensive to live with. Be that as it may, if you want to maximize cheapness and still have a usable city commuter, a micro-urban get-around might just be the perfect choice for you.
In comes the Citroen AMI, a brand-new micro electric city car designed to keep you from point A to point B without costing a ton of money on fuel, insurance, parking tickets, emissions taxes, and congestion charges. Sure, it might not be the pinnacle of luxury, but the AMI has everything you need for a small city car.
With a starting price of next to nothing, the AMI aims to become a common sight in many city centers. It is small, easy to live with, and easy to maneuver. So, in this article, we will tell you all about the new Citroën AMI.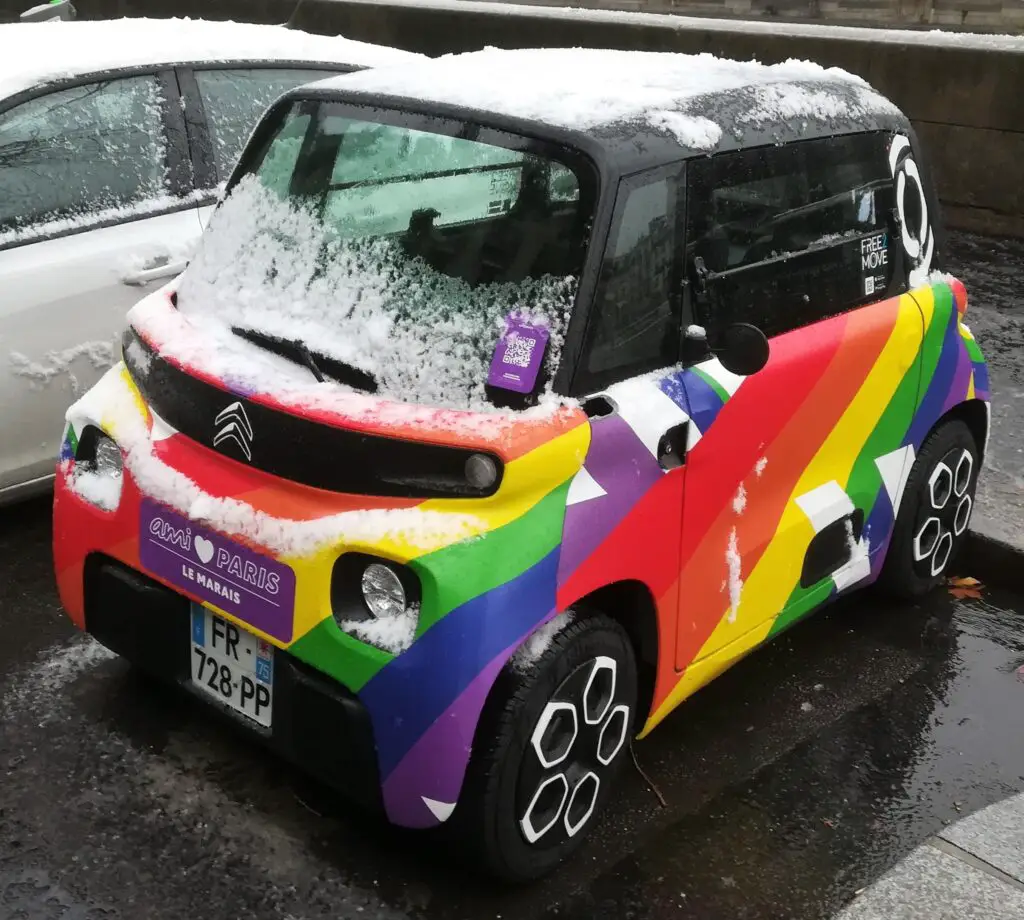 Citroen AMI – The Powertrain
A 5.5kWh battery in an electric car sounds like a joke these days when cars such as the Mercedes EQS have more than 100kWh batteries. However, the AMI is much smaller, lighter, and more efficient than the EQS which means that it can offer you a maximum range of 44 miles or 70km. The AMI does not get any fancy DC fast charging which means that a full charge is going to take around 3 hours.
With a maximum weight of just over 1,100 lbs/500kg, the AMI is as light as a feather which means that maneuverability is a breeze. The electric motor is situated above the front wheels which means permanent FWD and a maximum speed of 45kph/28mph.
All in all, the powertrain found in the Citroen AMI does not seem all that impressive by modern-day EV standards, but considering how much money the Ami costs and how lightweight it is, you really need nothing more from a small city commuter.
Citroen AMI – Design and Driving
Quirky is the term of choice when wanting to describe how the Citroen AMI looks because the AMI looks the same both from the front and from the back. No front or rear overhands mean that visibility is excellent and that the AMI looks more like a small quadricycle than a car. The interior is incredibly minimalistic with just three buttons, a Bluetooth speaker, and a steering wheel.
The driving experience is really weird but really fun at the same time. With such a small form factor, you can nip through traffic like with a motorcycle. Parking is as easy as it gets and agility is also really good. It is not particularly fast nor sporty, but that was never the intent.
Citroen AMI – Reliability and Common Issues
It is still too early to tell if the AMI is a reliable car or not because it is only starting to roll out on city streets. However, a few owners have complained that the AMI goes through its battery charge a lot faster than advertised which means that you are not going to get nearly the 44 miles of range.
Other issues include certain quality problems such as the quality of paint and body gaps. However, Citroen issued a major recall for the AMI because of issues with how air-tight the passenger cabin is, due to doors that don't seem to shut properly, and due to wiper-related issues.
Citroen AMI – Value and Practicality
With a starting price between €5,000 and €6,000, the Citroen AMI undercuts the Renault Twizy substantially. The Smart ForTwo EQ is a much more expensive car which makes the Citroen AMI the cheapest tiny urban electric car you can get. As such, there truly isn't anything bad we can say about the value aspect here.
Practicality is a bit of a mixed bag because the AMI offers two seats, but those seats are really cramped for taller individuals. Cargo space is limited to a small section behind the seats which isn't all that much.
Video: DRAG RACE – Citroen Ami vs Renault Twizy & more – mini electric car battle
FAQ Section
Can a 14-year-old drive the Citroen AMI?
In some markets, the Citroen AMI is classed as a quadricycle which means that even a 14-year-old can drive it with a special license. Some markets don't even require you to have a special license at all while some markets (like the UK) require you to be at least 16 years of age and have a special license to drive the Citroen AMI.
Either way, the Citroen AMI is a car after all which means that you do need some experience, knowledge, and expertise when it comes to driving the AMI, especially in crowded cities where traffic is quick, unpredictable, and sometimes really risky.
Does it make sense to buy a Citroen AMI?
First of all, the Citroen AMI costs less than any other true electric car on the market which means that finding a competitor besides the Renault Twizy is difficult. Moreover, the Citroen AMI is designed to be used in crowded city streets as a small commuter vehicle which makes your life a lot easier and cheaper.
As such, it makes sense to buy the Citroen AMI if you use it for what it is intended. The AMI is not intended for dual carriageways, highways, or open roads because of its maximum of 28mph. This means that if you tend to drive on faster roads often, it makes no sense to go for the AMI.
Is the 5.5kWh battery in the Citroen AMI enough?
A 40-mile range is not the best when it comes to EVs, but not many people will do more than 40 miles in a single day by simply driving through the city. The idea behind the AMI is to plug it in whenever you aren't using it which means that you should always have enough battery to do your daily commute. Therefore, a 5.5kWh battery should be enough for most people.