The Porsche Boxster is the entry-level 2-seater sports car made by the legendary Porsche brand in order to offer a classic mid-mounted, rear-wheel-drive sports car that can rival the likes of the BMW Z4, the Mazda MX-5, and the Alpine A110. This compact 2-seater sports car is made for those who want to enjoy a Porsche sports car without paying Porsche 911 money.
The Boxster lineup traces its roots back to the 90s when the first (986) generation was revealed. The 986 was in production until 2004 when it was replaced by the 987 which ceased production in 2012. The last two generations of the Boxster (the 981 and the 718) are the two best Boxster generations because they offer the most modern and exciting experience.
The powertrain you'd typically find in most Boxster models is a 6-cylinder Boxster engine, but the newer 718 Boxster models also come with relatively lackluster 4-cylinder models. The Boxster seems to be a relatively reliable model, but some problems are worth mentioning.
Value-wise, the Boxster is known to hold its value really well while practicality is what you'd expect from a compact 2-seater sports car. There isn't all that much space anywhere in the Boxster because the car was never intended to be practical.
Porsche Boxster – The powertrain
The 986 Boxster and the 987 Boxster both come with 6-cylinder engines exclusively. The most powerful 986 Boxster engine is the 3.2L 6-cylinder with 260hp while the 3.4L Boxster Spyder with 320hp is the most powerful Porsche 987 model. All of these come with RWD and a manual gearbox, or a PDK/Tiptronic as an option.
The 981 Boxster arguably offers the best standard engine lineup with up to 375hp in the 3.8L flat-6 engine. The 718 Boxster lineup starts with 2.0L 4-cylinder engines which are not all that popular while the range-topping 718 GTS and Spyder models get the best Boxster engine of all time, a 911-sourced 4.0L flat 6 with up to 420hp.
All of these engines are made to be exciting, responsive, and high-revving which means that the Boxster powertrain is perfect for those who want a sports car that is always ready to fly. Efficiency is not all that great, but no one buys the Boxster for its fuel-efficiency or running costs.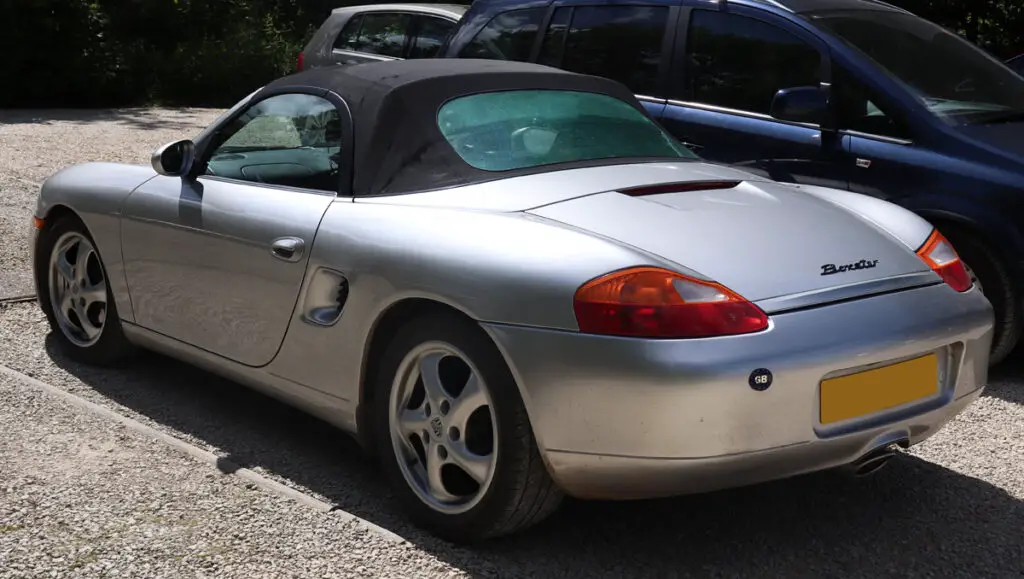 Porsche Boxster – Design and chassis
The Porsche Boxster utilizes a 2-seater, rear-wheel drive, short-wheelbase design that sits low and wide. This is a classic recipe for a 2-seater sports car which means that the Boxster looks exciting, mean, and ready to go. Interior-wise, the current Boxster lacks a bit when compared to the rest of the Porsche lineup but the overall design is brimming with high-quality materials.
The best thing about all Boxster generations is the suspension, and especially the chassis. The Boxster offers a perfect weight distribution thanks to a center-mid mounted engine which means that the Boxster chassis is balanced, controllable, and full of confidence. It is easy to drive the Boxster fast without worrying you'll end up in a ditch.
Porsche Boxster – Reliability and common issues
The Porsche Boxster has always been a decently reliable car while the newest Boxster models are dependable across the board. However, no car is perfect and the most common and potentially most severe issues associated with all Boxster generations are down to oil leaks, IMS bearing issues, timing chains issues, PDK issues, and overheating.
It's worth mentioning that the issues listed here are primarily the ones with the highest degree of severity and are not necessarily the most common. Either way, these need to be addressed carefully if you are interested in buying a Boxster.
Porsche Boxster – Value and practicality
You can buy a used Porsche Boxster for as low as $7,000, but these are not really all that desirable nor reliable because they are high-mileage, old, and slow. The best Boxster models easily go over $100,000 which is 911 territory which means that most people are likely to opt for a 911 instead.
Practicality-wise, the Boxster is a compact 2-seater sports car with a relatively spacious cargo space considering its size. However, in the grand scheme of things, the Boxster is extremely unpractical as it lacks both seating space and cargo space.
FAQ Section
Which Porsche Boxster generation is best?
It depends on what you want the most. If you want value above anything else, the first two generation Boxsters are affordable. However, both of them are not nearly as good as the later models. The current 718 Boxster is really expensive, yet it does not come with 6-cylinder engines for the lower-end models.
As such, the sweet spot of both value and performance, are the 981 models which do come with 6-cylinder engines, are fairly modern, are good looking, and are not as expensive as comparable 718 models. Furthermore, the 981 is also a reliable car which makes it even better.
Which Porsche Boxster generation is worst?
The first generation 986 Boxster is hands down the worst Boxster model to ever see the light of day for a few distinct reasons. First, the 986 came with lots of issues from the factory that were so severe that Porsche almost discontinued the car altogether. Secondly, the 986 is soon to be 30 years old even though it is not a classic.
Chances are that it will never be a classic because no one is all that impressed with the 986. That is also why one can get the 986 for silly low prices.
Is the Porsche 911 better than the Porsche Boxster?
The Porsche 911 is the better car because it offers more of everything. Some people actually prefer dedicated Porsche Boxster/Cayman models like the GT4, the GTS, the Boxster Spyder, and the GT4 RS over even the most dedicated 911 models like the GT3, GT3 RS, or even the GT2 RS.
There is something really special about the mid-mounted engine layout in the Boxster, but that is simply not enough to beat the 911 which is simply one of, if not the best sports car in the history of the automotive industry.
Is the 2022 Porsche Boxster worth it?
The Porsche 718 Boxster is an excellent luxury sports car. This roadster has the most driving appeal of any car in its class thanks to its powerful engines, blistering acceleration and agile handling. The interior is more in the "fine" category.
Is the Boxster a poor man's Porsche?
No, the Boxster is not a poor man's Porsche. It is just a different type of Porsche. The Boxster is a great choice for those who want a fun-to-drive sports car at a reasonable price.
What's wrong with Porsche Boxster 986?
The good news about the Boxster 986's reliability is that it has a MoT pass rate 78% which is well above the average for cars this age. Minor headlamp defects and worn tires are the most common causes of failure. There are many things that could go wrong with the Boxster 966, and they can be expensive.
Is a Boxster a real Porsche?
Yes, the Boxster is for sure a real Porsche. Porsche Boxster and Cayman mid-engine two-seater sports cars are manufactured by Porsche and marketed over four generations. They were made as a 2-door 2-seater roadster (Boxster), and as a 3-door 2-seater coupe (Cayman).
Is a Boxster a chick car?
We were asked the question: Is the Porsche Boxster a "chicken car"? Some people felt it was targeted at female drivers. Others, including me, argued that it wasn't. The votes were split after no one said unambiguously, "No, this car is not a chick vehicle."
What year Porsche Boxster is the most reliable?
The Porsche Boxster was first released in 1996. It had problems for the next few years, as every new vehicle experiences. After a few redesigns, Porsche found their sweet spot in 2012 which was the best year for its Porsche Boxster.
Will it be a classic?
The Porsche Boxster, despite its apparent unpopularity, will be a classic car because of its exceptional handling and usability. Its unique place in Porsche's past history will also make it a classic car. Porsche has already declared that the Boxster is a "classic car of tomorrow".
Are Porsche Boxster S cool?
The Boxster is a small, well-balanced two-seat coupe that handles well and looks great with the top down. The Boxster is easy to drive, park, and enjoy. Although ride quality and handling have improved with each version, the Boxster's original design is still agile and fun.
Can you fit a set of golf clubs in a Porsche Boxster?
Have fun on the Porsche Boxster and don't be afraid to take your golf clubs along. You will still be capable to carry your golf bag and club, even though we would recommend bags with narrower bases.
Is it a good daily driver?
Porsche's Boxster model might not be the most expensive or sought-after sports vehicle on the market but, like modern coupes we all know and love, the Boxster is the perfect example of a reliable and stylish sports car that is also great for everyday driving.
What's the difference between a Porsche Boxster and a Porsche Boxster S?
The Porsche 718 Boxster S offers more performance and a stronger engine. It starts at $71,400 MSRP. The 718 Boxster S features and specifications include all 718 Boxster features plus a 5L turbocharged Boxer 4-cylinder that produces 350 HP.
What year Porsche Boxsters have IMS problems?
Boxster, Cayman, or 911 vehicles manufactured between 2006 and 2008 have an IMS bearing non-serviceable. It is recommended that you remove the grease seal to allow oil to properly lubricate your bearings.
At what mileage do Porsches have problems?
Porsche cars will last for up to 150,000 miles. The average car's life expectancy is dependent on many factors, including driving habits and service history. Porsche is a well-known brand for its durability and the cars are kept in great condition for many years after they have been purchased.
Is Porsche Boxster a supercar?
There are only a few 911 models that could be considered super cars. Although the Boxster/Cayman platform by Porsche is the ultimate sports car platform, it lacks the exoticism necessary to be considered a supercar. Contrary to popular belief cars such as the Porsche 918 or Carrera GT aren't just sports cars.
Why do Porsches depreciate so much?
The Porsches are more expensive to maintain than other models, which causes new models to appreciate faster than usual. Also, used car buyers don't want to spend too much on old luxury cars so the demand for these cars remains low.
What is better Mercedes or Porsche?
Reliability Index ranks Porsche second among luxury car manufacturers, while Mercedes is 31st. Mercedes' reliability is below-average, while Porsche's reliability exceeds that of Mercedes. Porsche can achieve a level that few other automobile makers can match.
What is the nicest Porsche?
Porsche 356.
Porsche 911 2.7 Carrera RS. 
Porsche 930 Turbo.
Porsche 959.
Porsche 911 GT1
Porsche Carrera GT. 
Porsche 918 Spyder.
Porsche Taycan.
How reliable is a 1999 Boxster?
1999 Porsche Boxster Reliability rating is 2.0 out 5 It ranks 32nd of 32 across all brands.
What is a Porsche Boxster T?
The Boxster T is the ultimate back-to-basics car. This Porsche 718 chassis is a powerful performance car that does not focus on speed or power but rather showcases the inherent brilliance and power of the Porsche Boxster T.
When did Porsche Boxster change body?
The second generation of the Boxster was updated with new technology and increased power in 2008. The second generation Boxster S had almost the same power output as the previous Boxster S. The world was still reeling from the 2008 economic crisis. Porsche managed to make the Boxster look good with its facelift.
Can a big guy fit in a Porsche Boxster?
If you choose manual seats (which are a bit lower), then you should be fine. I'm 6'3″ tall and 270lbs, and my 987 BS has power seats fits me well. Also, the 981 is a little larger.
Does Porsche have heated seats?
The standard heated seats in the front row of the 2021 Porsche Cayenne have been replaced by one with memory foam. However, the rear row has an option to have heated seats. The 2021 Porsche Cayenne interior has four-zone climate control, which regulates temperature.
Is Porsche Boxster water cooled?
The M96 is a water-cooled horizontally opposed ("flat") six-cylinder engine that powers the 986 Boxster. It was Porsche's first non-front-water-cooled water-cooled engine. It is located mid-engine in the Boxster while it is in the 911.
How do you remove a Porsche Boxster steering wheel?
Disconnect the battery from the cover terminal.
Take out the driver's airbag. To do this, use a screwdriver to loosen the fastening screws for internal Torx T30.
Remove hexagon nut from the bolt and attach spring washer.
To get to the straight-ahead position, turn the wheels.
How do you change a steering wheel on a Porsche?
Video: Porsche Steering Wheel Upgrade and Retrofit DIY
How big is a fuel tank on a Porsche Boxster?
Porsche Boxster has a 64-liter fuel tank capacity. Porsche Boxter, a futuristic sports car from the luxury carmaker is equipped with a modestly large fuel tank capacity, 64 liters.
Are Porsche engines direct injection?
In 2007 Porsche joined the growing number of automakers that are using direct injection to power their gasoline engines. – Porsche AG's Cayenne crossover/utility vehicle is back in '08 after having to skip a model year. It features newly revised powerplants that feature the most advanced technology for gasoline engines, direct injection.
Is direct injection better than fuel injection?
Direct injection increases combustion efficiency, fuel economy, and lowers emissions. Both systems use electronic fuel injection to inject fuel into the engine. The difference lies in where the fuel is sprayed.
What is Porsche DFI?
Porsche introduced their DFI (Direct Fuel Injection), a completely redesigned intake system that was designed to improve performance, fuel consumption, and emissions. It optimizes the air fuel mixture directly within the combustion chamber.
What are the cons of using direct fuel injection?
Plaque can build up in your arteries and reduce blood flow. This can cause a heart attack. Carbon buildup on your car's intake valves can also reduce fuel flow and cause engine failure. Direct fuel injection can cause engine carbon fill-up and fuel system blockage. This is the biggest problem.
Video: Porsche Boxster air intake mod
What does Porsche active suspension management do?
PASM is an electronic damping control device. Based on driving style and road conditions, it adjusts each wheel's damping force continuously. This reduces vehicle body movement, and improves comfort for all four passengers.
What is Porsche VarioCam plus?
VarioCam Plus increases the lift and delays valve timing to improve cold start responsiveness. To help reduce fuel consumption and emissions, the valve lift and timing are lowered at medium revs and with low loads. The lift is increased and the timing advanced to maximize power and torque.
Are anti-roll bars worth it?
For racing and road performance, the anti-roll bar is a "good" thing. There are no downsides to it. The only limitation to how stiff you are able to go is the same as the limitations to how stiff the suspension springs of your car.
Is the Porsche Boxster fast?
Acceleration performance: Porsche claims that its Boxster and Boxster T are capable of sprinting from zero to 60 mph at 4.9 to 4.5 seconds depending upon the transmission.
Is a Porsche Boxster fun to drive?
Although the Boxster does have a smaller and more powerful engine, this doesn't mean it's less fun or slower to drive in real life. Actually, the engine is capable of generating all the power you need, so you can enjoy the engine for as long as you like and still have the same fun as a 911.
Video: Top 5 Boxster 986 performance mods
Enhanced performance: 
What is Porsche torque vectoring?
How Does Porsche Torque Vectoring Work? PTV works in conjunction with the rear differential locking system by intelligently stopping the rear wheels when necessary. This feature applies moderate brake pressure inside the rear wheel in order to permit tight cornering.
How does electronic damper control work?
Electronic damping control system: Based on the information received from the accelerator sensors on the wheels and the body, the electronic control unit calculates how to adjust the damper settings. It adjusts the damping according to the car's speed as well as the road surface condition.
Does Porsche Boxster come in manual?
Manual gearboxes can be found on 718- and 911-based models. The 6-speed manual transmission will be available on Boxster and 718 Cayman models.
Can you put a child seat in a Porsche Boxster?
Video: Porsche Cayman/Boxster Baby Car Seat
Can you add rear parking sensors to a car?
Can I add parking sensors to my car? It is possible to add parking sensors to your car using clever methods from many manufacturers.
Other things to be aware of:
Comfort-orientated Power steering
Current road conditions
Blind spots
Maximum load