The Volkswagen ID. Buzz is a battery-powered electric minivan first introduced by VW back in 2017 as a concept car. Since then, the ID. Buzz came available for purchase in 2021 and it harks back to old-school VW vans from the 60s, but with a clear emphasis on electrification. In this article, we will tell you All about the all-electric Volkswagen ID. Buzz and why you should buy one.
For starters, the ID. Buzz is available in a few different forms, a short wheelbase model, a longer wheelbase model, or even as a campervan. The ID. Buzz gets a sizeable battery with a decent range which should be more than enough for most people. With upwards of 200hp, the ID. Buzz is one of the most powerful VW vans ever.
Design-wise, the ID. Buzz is all about the future thanks to smooth body lines, and futuristic-looking headlights, but still with a clear inspiration from VW campervans from the past. The interior is nicely laid out with all the amenities you'd expect from a true 21st-century EV.
The jury is still out on the reliability of the VW ID. Buzz is way too fresh. We will have to wait a few years and then we will be able to properly assess the ID. Buzz is a reliable car or not. Value-wise, the ID. Buzz does come with a hefty price tag, but that is the case with all new VW EVs. Practicality is rather excellent because the ID. Buzz sits up to 7 people.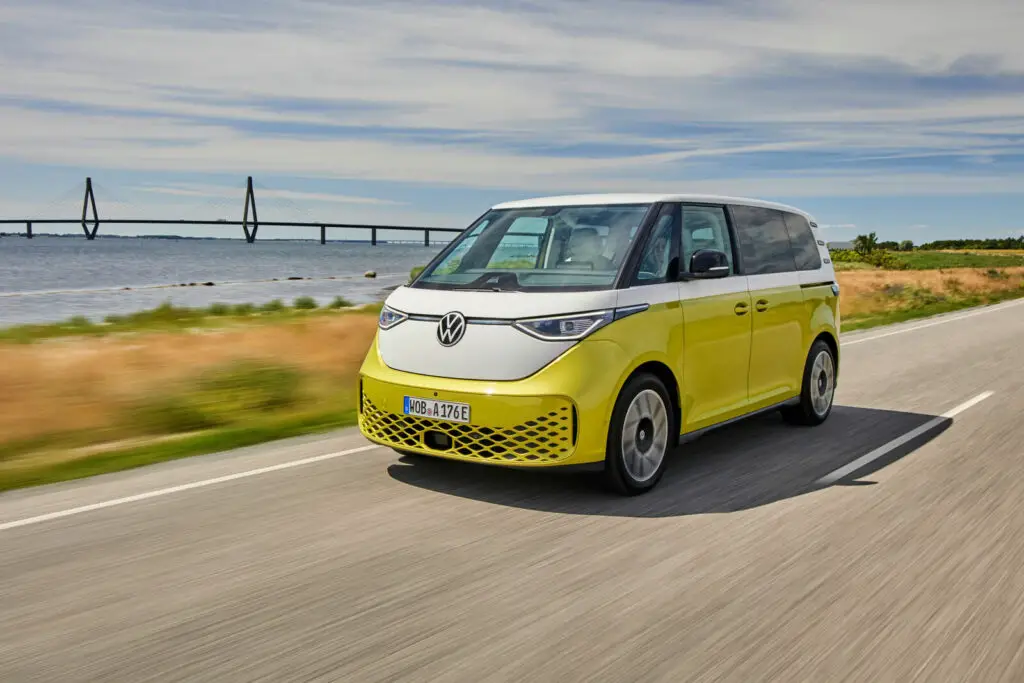 VW ID. Buzz – The Powertrain
The Volkswagen ID. Buzz gets the familiar 82kWh battery found in many other VW ID. models which means power is rated at 201hp while torque is rated at 229lb-ft. This battery is mated to a single electric motor powering the rear wheels with a 0-60mph time of around 10 seconds which is a fairly decent pace for a van.
This will give you around 205 miles of range and you can recharge the ID. Buzz using a DC 175kW fast charger from 20% to 80% in around 30 minutes or so. Slow home socket AC charging takes around 8-9 hours which is understandable given how large the battery is.
All in all, the VW ID. Buzz gets a competent powertrain that should satisfy most people out there. Upwards of 200hp in a VW van is not something you see often, especially with a battery as EVs tend to offer you 100% of the power at any given moment.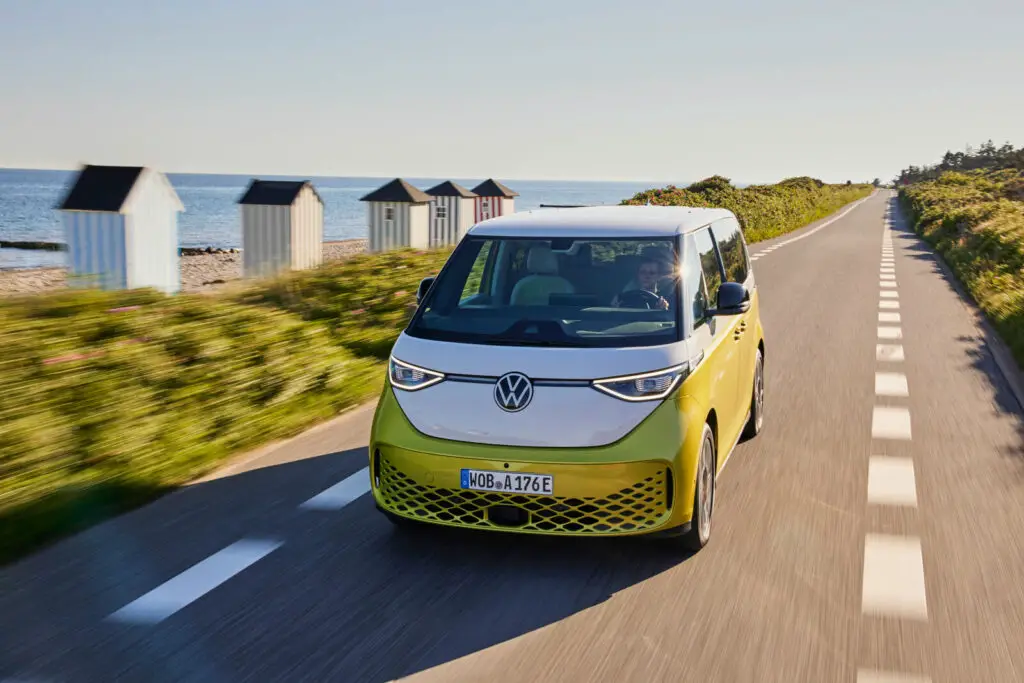 VW ID. Buzz – Design and Driving
Design-wise, the VW ID. Buzz is a concoction of both the past and the future as it is primarily intended to be a 21st-century recreation of the iconic VW camper from the 1960s. The two-tone paint is directly inspired by that car while everything else is made to look futuristic, especially the headlights and taillights. The interior is extremely modern and colorful to tie in with the exterior in a coherent way.
When it comes to the driving experience, the VW ID. Buzz is nothing special as it is a van after all. This means that it is comfortable enough, yet not dynamic at all. The center of gravity is kept down low thanks to the batteries being mounted underneath the seats, but that still does not erase the fact that this is a van.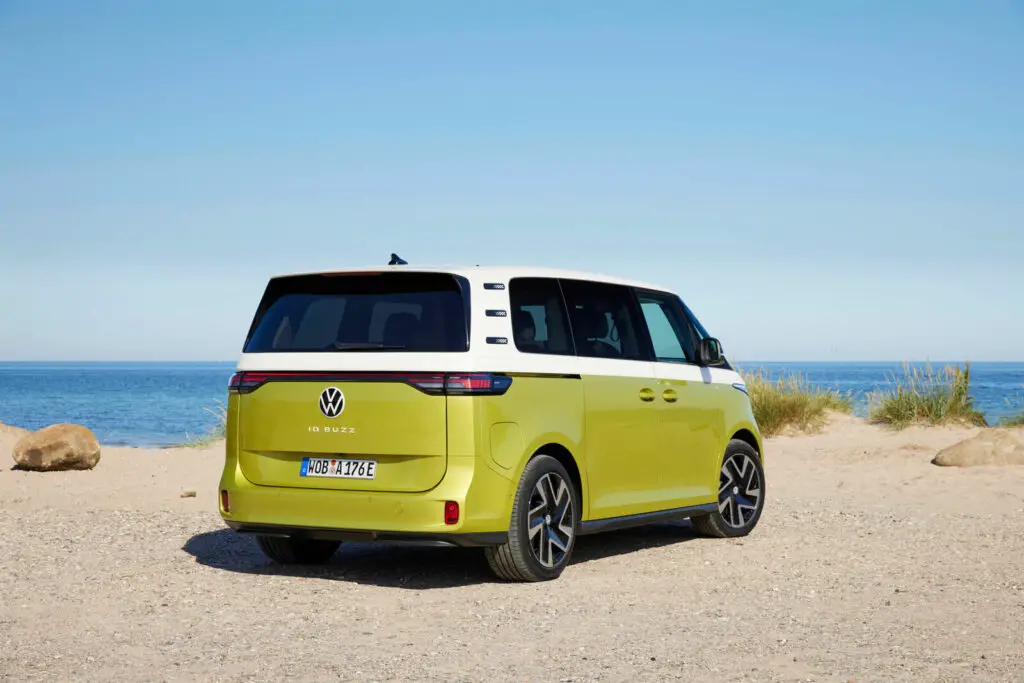 VW ID. Buzz -Reliability and Common Issues
The Volkswagen ID. Buzz is way too new for us to properly assess how reliable or unreliable it truly is. However, VW managed to halt production of the new ID. Buzz even before it truly kicked off thanks to problems with the car's battery.
Other issues include certain quality problems which are likely to be ironed out before the car reaches any significant number of miles. All in all, this is rather common for brand-new cars because they are brand new. We will have to wait a while before we can truly say that the ID. Buzz is reliable.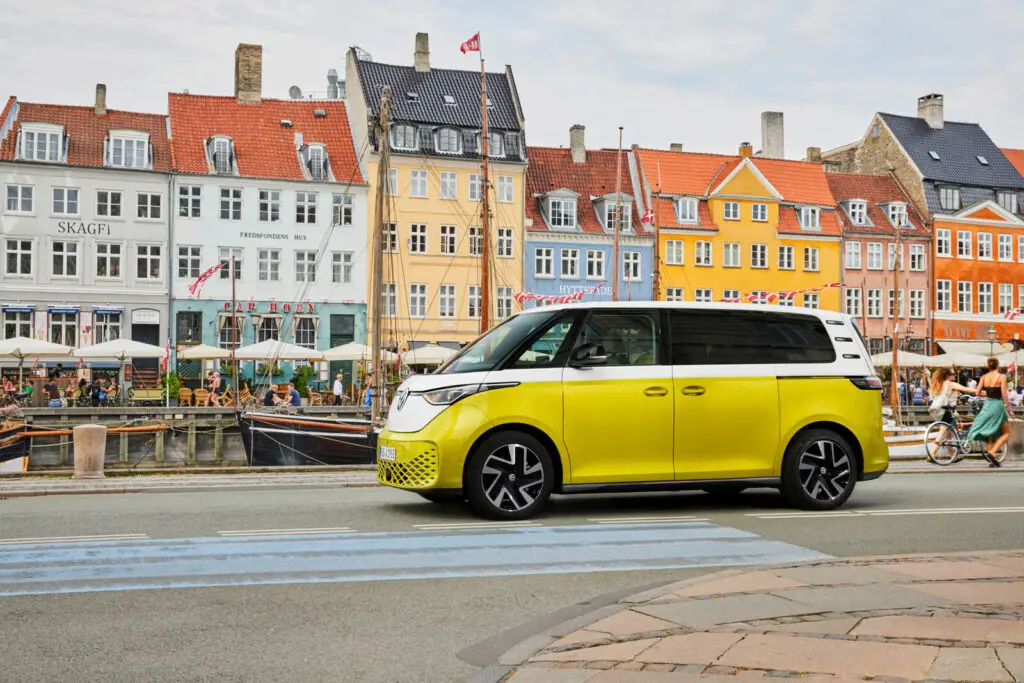 VW ID. Buzz – Value and Practicality
With a starting price of around $45,000 without any options, the VW ID. Buzz is really expensive, but that is sadly the case with all VW ID. cars. EVs cost more money to make these days, but those prices should, in theory, come down a bit after a while.
Practicality is excellent as the ID. Buzz comes in a few different variants seating between 5 and 7 passengers in total. The cargo space is huge and without a front overhang, the front visibility is perfect. Rear visibility is not as good, but the ID. Buzz gets lots of assistance systems to help you park it without any issues.
Video: The New Volkswagen ID Buzz Is the Return of the VW Bus!
FAQ Section
Should I buy the Volkswagen ID. Buzz?
If you are in the market for a family EV car that can sit up 7 people and is also fairly well-appointed, modern, and cool, the VW ID. Buzz might just as well be your perfect choice. Sure, there are some electric vans on the market that are significantly cheaper, but the ID. Buzz is a special car and it deserves a price hike.
On the other hand, if you don't need 7 seats, I'd suggest buying something more ordinary as electric vans are not the most efficient EVs out there, but they do carry a significant price increase. As such, I'd rather go for a well-equipped VW ID. 4.
Is there a hybrid version of the VW ID. Buzz?
No, the Volkswagen ID. Buzz is available exclusively as an electric van as is the case with all other VW ID. series cars. This means that the ID. Buzz is likely going to be offered as an electric van alone and you will not be able to buy it with either a hybrid or an ICE powertrain.
Thankfully, there are plenty of hybrid family van/MPV choices within VW and within the rest of the car industry.
Why did VW make the ID. Buzz?
The Volkswagen ID. Buzz exists because VW saw an opportunity in mixing one of the greatest VW cars from the past with the technology of the future. The original VW camper was likely the most famous small van of all time, and VW wanted to pay homage to the original camper while also trying to make a few bucks while selling it.