So, you've decided to go ahead and splurge on that luxury car that you've always wanted, but now it's time to insure the vehicle. If you're not prepared, you might be surprised at how much it costs to insure one of these cars.
How Much More Does a Luxury Car Insurance Cost?
On average, it costs 18% more to insure a luxury car, all other things being equal. Fortunately, there are things you can do to lower your rates somewhat, and it all starts with knowing what these things are.
Ways to Lower Your Insurance Costs
Even though you pay higher insurance rates with a luxury car, there are still things you can do to make sure those costs don't get too high. Most insurance companies help you reduce your insurance costs so that the costs aren't exorbitant.
Some of the ways you can actually lower your insurance rates include the following four ways:
1. No Teen Drivers!
If you have a luxury vehicle, don't let your teen drive it! Teenagers simply don't have the experience they need to handle a luxury car without the increased risk of wrecking it, which is something no car owner wants.
Teenagers are bound to wreck your car if they drive it long enough, so save yourself some heartache by keeping your luxury vehicle away from them. Not all teenagers are going to wreck your car, but given the statistics involved, it simply isn't worth taking the risk to let a teen drive your luxury car.
2. Consider a Higher Deductible
Higher deductibles mean lower monthly payments, and you still get the same amount of coverage for the policy you choose. Your insurance agent can break it down for you and show you how much you can save.
Even just a $200 to $250 difference in your deductible can mean a lot of savings month after month, so this type of discount is definitely worth looking into. The more you pay for that deductible, the insurance company reasons, the less you should have to pay for your monthly premium.
3. Join a Club for Luxury Car Owners
There are all types of clubs for car owners, including those developed specifically for people who own luxury vehicles. Many insurance companies automatically give you discounts for belonging to this type of club because in addition to other perks, it shows you have pride in your car and will take good care of it.
4. Consider Pay-as-You-Go Insurance
Pay-as-you-go car insurance isn't for everyone, but if you're only going to drive your luxury car every now and then, it might benefit you to do some research on this type of insurance. Let's say you only plan to drive the car in a few car shows a year. In this case, pay-as-you-go car insurance is the perfect solution.
5. Always Check Out Multiple Insurance Companies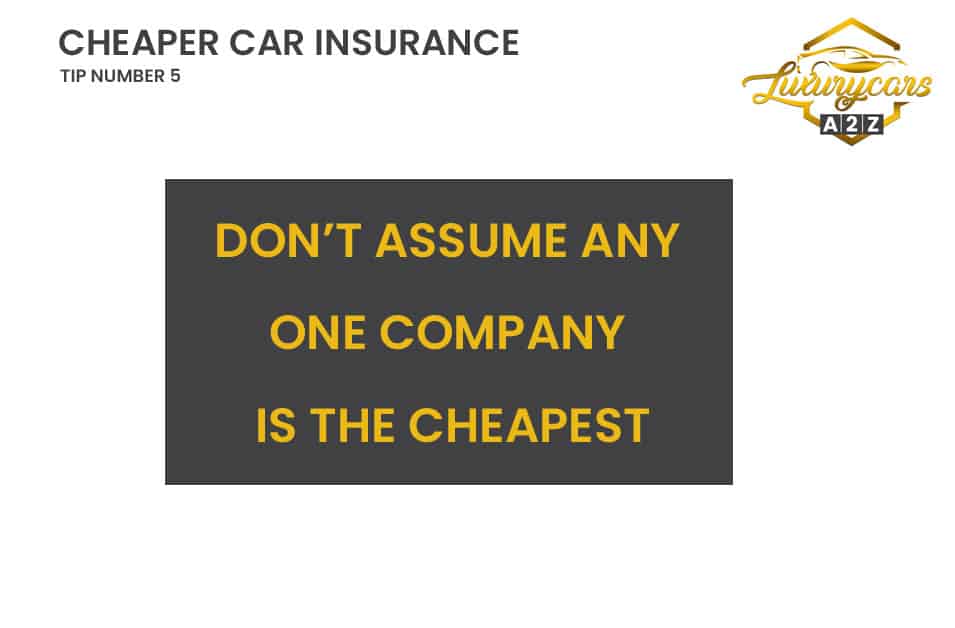 Video: Why are luxury cars more expensive to insure?
Frequently Asked Questions (FAQs)
What are some things car insurance companies look at when determining the rate for a luxury vehicle?
Insurance companies look at things such as your credit score, your commute time, where you live, your occupation, and of course, your driving history. The results of these things all affect your insurance rate.
Why are luxury cars more expensive to insure?
Luxury cars are more expensive to insure because quite honestly, they are much more expensive to repair and replace. In fact, when it comes to anything the insurance company might have to pay for, the costs will be higher, and they pass that higher cost on to the customer.
Can I still compare insurance companies and maybe get a better rate?
Of course. While all of these companies will offer competitive rates, you'll find that, just like other vehicles, the cost to insure a luxury car can vary quite a bit from one company to another. It will definitely benefit you to do some comparison shopping.
I'd like to avoid some of the most expensive luxury cars. Which luxury cars cost the most to insure?
Luxury cars with astronomical insurance rates include the Nissan GT-R; Porsche Panamera; certain Mercedes models, including the Maybach S650, S65 AMG, S560 4MATIC, and the AMG GT R; and BMW models such as the i8, M760i xDrive, and the M6 Gran Coupe.
Conclusion
Owning a luxury car is always going to cost you more to insure, but insurance companies work hard to make sure you have ways to make the insurance a little less expensive. Things such as adding an anti-theft device, choosing an older luxury vehicle, and whether you choose full coverage or another type can make a difference.
In addition to luxury vehicles, there are other cars that cost more to insure, and these include antique or classic cars, vintage cars, exotic cars, and kit cars, to name a few. If you have any type of unusual vehicle, therefore, you might as well accept the fact that your insurance bill is going to be a little high.